Take care of the greatest ornament of the body, your skin →
Homeopathy has given amazing results in all kinds of skin disorders. We have treated acne, eczema, psoriasis, vitiligo, ringworm, seborrheic dermatitis, hives, contact dermatitis, warts and many other skin conditions.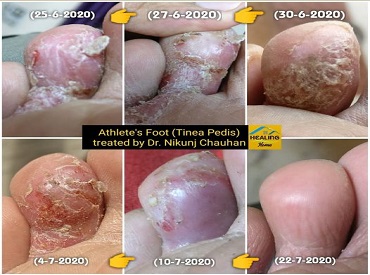 To give an example, we had seen a young man with tinea pedis (fungal infection of the toes). He consulted us online over Skype. It all started after he purchased a new pair of shoes two months ago. After two or three days, he realised that they were too tight for him. Now that he couldn't return those shoes to the shop, he had to adjust with those tight-fitting shoes. After a few days, his toes started hurting and his fourth toe (ring toe) was badly swollen. The swelling and burning pain had become so intense that he couldn't even wear loose oversized flip-flops, forget those shoes. Then severe itching started between his toes and around his swollen toe. He started applying some antifungal creams without any results. He even started treatment from a general practitioner, but it couldn't help him. As he was thinking of visiting a dermatologist, his friend advised him to try Homeopathy. So he opted for Homeopathy and contacted us online. He told me that he was feeling too much heat in his feet. He had to uncover the feet while sleeping at night (Generally he is a chilly person and covers the whole body while sleeping). He had excessive perspiration on his feet throughout the day. Even his flip-flops turn sopping wet in a few minutes. And every day after bathing, this skin complaint was aggravating. He couldn't wash his feet, as once his feet got wet, there was excessive burning and itching continued for an hour. Because of this, he was constantly thinking about what his relatives and friends would think about him. He didn't want them to know about this problem. He tried his best to hide his wet and dirty flip-flops at home, so that they would not be seen even by his parents. The video case further continued for an hour and we understood his mind state while having this fungal infection. After starting the treatment, his fungal infection miraculously cured within a month, which was really fast. Even his image-conscious thoughts and worries reduced over the time. He doesn't overthink about himself or others now
Homeopathic medicines work at the centre of your core, which heal not only your physical pains and symptoms but also induce a state of well-being at each and every level of your being.